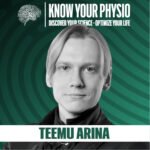 I am excited to have Teemu Arina as our guest. Teemu is a digital transformist, optimal human performance specialist, best-selling author, and biohacker. With a professional career spanning two decades, Teemu is at the forefront of the digital transformation of learning, work, leadership, health, and the future of humanity. He is known for his expertise in studying the intersection of man and machine and finding ways to improve productivity, health, and wellbeing through the use of biological and technological tools. Teemu is a highly sought-after keynote speaker, having presented in various countries around the world, and he gives around 100+ presentations per year.
In this episode, Teemu shares his insights on the dark side of biohacking and personal development. He discusses the unique character of entrepreneurial individuals and communities who are never satisfied or fulfilled, often sacrificing themselves and coming from broken backgrounds. Teemu also delves into the cultish behaviors that can be observed in the fields of health, biohacking, spirituality, and entrepreneurship. He shares his experiences of meeting leaders in these fields who appeared burnt out and not true to themselves. It's a thought-provoking discussion that sheds light on the hidden aspects of these industries.
If you're interested in exploring the darker side of personal development and entrepreneurship, and gaining a deeper understanding of the challenges faced by leaders in these fields, I highly recommend listening to this episode with Teemu Arina. You'll gain valuable insights into the pressures of being a role model, the influence of social media on health and wellness beliefs, and the creation of online alter egos. It's a fascinating conversation that will make you question the narratives and personas we often see in these industries. So, don't miss out and listen to the show now!
Key Points From This Episode:
Leaders in the biohacking and personal development space often have their own personal traumas and struggles. [00:06:38]
Biohacking is about self-improvement. [00:13:41]
Beware of identity attachment online. [00:18:22]
Leaders and senior executives exhibit psychopathic traits. [00:31:25]
 Social media can promote pathological behaviors. [00:38:06]
Cultural influences shape personality. [00:52:04]
Balance is key for well-being. [01:03:27]
 Healing and cooperation are essential. [01:16:02]
Awareness of technology's influence. [01:29:32]
Embrace extreme behaviors for progress. [01:39:11]
The complexity of truth and growth. [01:54:29]
 Embrace change and embrace growth. [02:00:04]
Links Mentioned in Today's Episode:
Click HERE to save on BiOptimizers Magnesium
(PDF) Disordered personalities at work (researchgate.net)
The Corporation | Documentary – YouTube